Land Board Approves Lease for Hawai`i County Wind Farm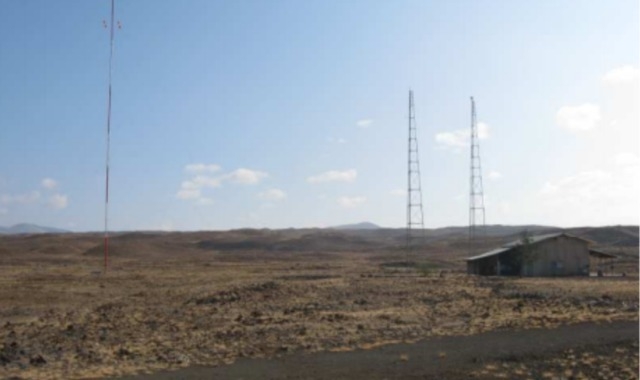 The state Board of Land and Natural Resources has agreed to forgo nearly half a million dollars in rent over the next ten years so Hawai`i island residents can save money on their water bills and the county can reduce its reliance on fossil fuel.
On January 9, the Land Board adopted a recommendation from the Department of Land and Natural Resources' Land Division to grant the Hawai`i County Department of Water Supply a lease for about 84 acres in South Kohala and to approve a 20-year sublease for roughly half of the area to the Lalamilo Wind Company.
The company has an agreement with the county to build and operate a 3.3 megawatt, five-turbine wind farm on the site. The electricity produced will run pumps that serve the Lalamilo-Parker well system, which can produce up to 5 million gallons of water a day.
According to a June 2014 draft environmental assessment, the wind farm, called the Lalamilo Repowering Project, is expected to provide 75 to 80 percent of the system's pumping energy demands, "thereby saving the water customers approximately $1 million per year at today's electrical rates."
"Additionally, the project would contribute to the state's Clean Energy Initiative goal that at least 40 percent of the state's energy be supplied by renewable resources by year 2030," it states.
The Land Board approved the project, in concept, in February 2011 and had originally planned to charge the county fair market rent. But when an appraisal determined it to be $56,000 a year — far more than the $6,600 the county had paid under a previous lease — the county asked the DLNR for a break.
Having obtained a letter of commitment from the county that energy savings would be passed onto consumers, the Land Division recommended a reduced lease rent of $6,600 a year.
At-large Land Board member Chris Yuen asked whether there was any chance the county or Lalamilo could sell excess power to the Hawaii Electric Light Company (HELCO).
Hawai`i DWS deputy director Keith Okamoto said his agency had no intention of selling excess power to HELCO. With the utility, renewable energy projects get placed on a queue and the wind farm would be at the bottom, he said. Given the number of projects ahead of it, "we would probably never make it through the queue," he said.
He added that the water department intended to use all of the power produced because all five turbines would probably not be operating all the time.
Although Land Division administrator Russell Tsuji said his division planned to require the county to post a bond, possibly up to $500,000, to cover the cost of removal of the turbines at the end of the lease, Yuen convinced him that that might not be necessary with a public agency as the lessee.
* * *
Board Grants CDUP
To O`ahu Moi Farm
On December 12, the Land Board granted a Conservation District Use Permit to Mamala Bay Seafood, LLC, which plans to grow moi in 10 mariculture cages off the Honolulu International Airport's reef runway. The cages will be located on 75 acres of the runway's borrow pit.
The state Department of Transportation, which controls 60 acres of the site, initially expressed concern over the farm's potential to attract birds so close to the airport. The remainder of the acreage is under DLNR control.
As of the Land Board's meeting, DLNR Office of Conservation and Coastal Land administrator Sam Lemmo said he had not yet seen a final letter from the DOT indicating its support for the project.
In any case, the CDUP's conditions state that if and when Mamala Bay secures its 75-acre ocean lease for the area, it must have DOT approval, as well.
Regarding potential environmental impacts, Lemmo told the Land Board that avoiding entanglements with marine mammals and maintaining water quality won't be a problem for the farm.
"The currents are so powerful," he said.
The only real concern is the farm's effects on the ocean floor, because debris from the cages settles on the bottom and "creates an anaerobic type of situation, where it kind of changes the nature of benthic [community]," he said.
"Basically you've got some sandy bottom, got some worms in it. The sand turns a little darker," he said.
When Land Board member Chris Yuen asked whether the DOT's security concerns were overblown, Lemmo replied only that, "if the DOT doesn't want this to go, its not going to go. … I didn't want to be the person to decide whether there was an avian issue or not."
MBS's Randy Cates explained that he knew his original concept for the farm, to use floating cages, would raise issues about birds and airports. After discussion the issue with airport and Federal Aviation Administration representatives, "they said if you can submerge it, the bird issue is gone," Cates said.
With the cages now to be submerged, "verbally they told us everything is okay," he said, adding that no letter has been forthcoming because the DOT has been waiting to see who Governor David Ige will appoint to head the department.
Because of the area's high water movement and its shelter against storms, "this is the best location hands down for aquaculture of this sort," Cates said. Cates, who established the state's first commercial open-ocean aquaculture farm, said he has been looking for a site since around 2005.
Despite the benthic effects, Cates suggested that the fish farms are actually good for corals.
"I do a lot of coral reef repair work," he said. "On our first lease [for the moi farm started by Cates International], corals were an unknown. We found over 10 years, fish farms were so good for corals, we were taking corals off the farm and using them to replant reefs."
For this farm, the National Oceanic and Atmospheric Administration and the state will have an opportunity to harvest corals," he said.
Yuen asked Cates about the use of antibiotics and hydrogen peroxide to treat the fish.
"I've never had to use antibiotics or hydrogen peroxide. If you raise a fish with big scales, it does far better than with small scales. With moi, there's no issue. Kahala, salmon, yes," he said. "The main reason I chose moi, it's so robust in the ocean."
He added that if he ever needs to treat his fish, he will have to obtain the proper approvals.
"I hope I never have to," he said. "The simplest answer is simply eradicate the fish if you have a problem."
In addition to obtaining Land Board and DOT approval of a lease, MBS also needs the Land Board to amend its rules to lift the "thrill craft recreation area" designation that encompasses the site. (For additional background on the MBS project, see the article in the August 2014 Environment Hawai`i, "Kona Mariculture Proposes Expansion, While Moi Operation Seeks O`ahu Permit.")
***
Maui Lay Net Violation
Moves to Contested Case
Despite arguments from Hawai`i island Land Board member Stanley Roehrig that the case should be dropped altogether, on December 12, the board granted a request for a contested case hearing by Elpie Valdez. The board had fined Valdez $4,000 in October for illegal lay net fishing in waters off Maui's Kanaha Beach Park.
Before the vote to approve the contested case, Roehrig — the only board member to oppose the fine — expounded on his belief that the DLNR could not pursue a civil violation against Valdez because a Circuit Court judge had already found him innocent. (Valdez's son had testified in October that his father, who he said speaks little English, simply misunderstood the DLNR's rules as they were told to him and believed he was actually following the rules.)
Roehrig argued in October and, again, in December, that this was a case of double jeopardy.
At the December meeting, Roehrig, an attorney, cited a Supreme Court case supporting his position.
"The double jeopardy clause will bar the second sanction if both are deemed punishment," he said. And although he said he could not find a Hawai`i Supreme Court case that says a civil penalty is a punishment, he said he believed "a fine is just as much a punishment as confiscating someone's fish and cutting them up. You delay the time the guy has to sell it, the expense to pay to go into contested case."
Even though Valdez had asked for a contested case, Roehrig seemed to feel the case should simply end.
"In this particular instance, we should not proceed any further and we should dismiss this. I don't think it's in the public interest if it's questionable," he said.
Deputy attorney general Linda Chow, advising the Land Board that day, countered that double jeopardy only protects against multiple criminal convictions. With regard to civil fines, the court has said those fines may be equivalent to criminal punishment, but "there is a test you have to go through," she said.
"It has to be very clear the penalty being imposed is tantamount to criminal penalty," she said.
Roehrig argued, "The bigger the fine gets, the more it looks like punishment. … My instincts are this Filipino gentleman from Maui should not have to go through this any further."
At-large Land Board member Chris Yuen also weighed in on whether the state could seek civil and criminal penalties for the same action.
"Didn't this come up with Kaloko, with Mr. Pflueger?" he asked, referring to the Kaloko Dam breach years ago that killed seven people.
"It did," then-Land Board chair William Aila said.
"He was represented by some of the toughest lawyers. … If this was a viable defense for Mr. Pflueger, I don't think they would have missed it," Yuen said.
In the end, Roehrig voted with the rest of the board in approving the contested case.
***
Paiko Residents Contest
DLNR Enforcement Case
Facing nearly $40,000 in fines for violations of Conservation District and state wildlife sanctuary rules, Paiko Drive residents Garrett Saikley and Robert Carpenter requested a contested case hearing from the Land Board last month.
On January 9, the DLNR Office of Conservation and Coastal Lands had recommended that the Land Board fine the men $36,000 for several violations surrounding apparent efforts to exclude the public from public areas in and around the Paiko Lagoon Wildlife Sanctuary, which abuts their property. The OCCL also recommended requiring them to pay $2,500 in administrative costs. But because their attorney, Lisa Munger, had sent a written request for a contested case hearing ahead of the January meeting, the Land Board chose to defer the matter pending the resolution of the case. The board did, however, allow public testimony before it voted to defer. (Maui Land Board member Jimmy Gomes asked whether the Land Board could take testimony given the contested case hearing request. OCCL administrator Sam Lemmo said it was up to the Land Board's discretion.)
While Saikley and Carpenter have contested some of the allegations OCCL has made with regard to their activities in the area, Ann Marie Kirk of Livable Hawai`i Kai Community Hui pointed out that the placement of boulders along the beach is not an alleged violation.
"They said they did it," she told the board. The OCCL report to the board states that Carpenter said they placed the rocks to prevent erosion.
Kirk also complained about the warning signs the couple had also admitted to placing.
"Signs that say 'no beach access' and look exactly like DLNR signs. … What is the community supposed to do?" she said, suggesting that it was a "concerted effort" to confuse the public. "That's the power of signs like that," she said.
With regard to the OCCL's allegation that Saikley and Carpenter had illegally conducted commercial activity within the Conservation District, Kirk said they have a website advertising private weddings.
"I watched cars go up and down [the public easement] to their home … Cars were parked in the sanctuary," she said.
When it was Munger's turn to testify, she disputed many of the OCCL's assertions, which she felt should be discussed in a contested case.
At the meeting, however, she did comment on claims of illegal or improper work (i.e., the placement of rocks along the border) done in the public easement leading to the sanctuary.
"It's important to recognize how the sanctuary was created. This was not always state land. The area was owned privately. … There were already homes on both sides," she said. When the easement was conveyed to the state, the surrounding landowners didn't just retain a right of access; they were burdened with participating in the maintenance and repair of the easement as well, she said.
"We are partners in maintenance of this. … We need to work together," she told the board.
Following Munger, several area residents testified about what they saw as Saikley's and Carpenter's "escalating" attempts at discouraging the public from coming anywhere near their property.
"I have meet people who have been told they cannot come out there because it's a turtle hatchery … not true. A person with his daughters was yelled at to get out," claimed Robert Littman, a neighbor who also lives on Paiko Drive. "He's [Saikley] saying he's trying to preserve the area and be a good neighbor. I don't believe either."
After an executive session, the Land Board voted to defer the matter and refer it to a contested case hearing. Board member Chris Yuen asked the Attorney General's office to look closely at the DLNR contested case hearing rules because he thought the deferral departed from the board's prior practice.
The Land Board needs to handle these matters consistently, he said.
Process
Before the board voted to defer the matter, Dan Purcell, a member of the public who often testifies on procedural matters, expressed concern over how this item was dealt with, taking issue with the board's suggestion that it was going to defer the matter before actually voting to do so. Also, he added, "it's not discretionary whether you can take public testimony. You have to," he said.
He suggested that given the Land Board's handling of contested cases — for example, the case on the Advanced Technology Solar Telescope (ATST) on Haleakala — there ought to be an audit. In the ATST case, the Hawai`i Supreme Court found that the Land Board improperly voted to approve a Conservation District Use Permit despite a pending request for a contested case hearing.
Purcell also argued that the Land Board mishandled former Public Utilities Commission chair Mina Morita's contested case hearing on her and her husband's $30,000 Conservation District fine. On December 12, the Land Board signed a contested case decision and order reducing the fine to $15,000.
Purcell first questioned whether board member Ulalia Woodside should have signed the order, since, she is a Kamehameha Schools employee and the school has applications pending before the PUC.
He also noted that the order's first paragraph states that the Land Board "after fully considering the hearing officer's recommendations … issues its decision and order."
"There was no hearing officer," he told the board. The terms of the order, in fact, grew out of a separate settlement agreement with Morita and her husband, Lance Laney.
"There was no hearing officer. There was nothing to review. Why all of you signed this, I have no idea. … You signed off on something you didn't read," he said.
* * *
Board Approves Acquisition
Of Easement in South Kona
The DLNR's Division of Forestry and Wildlife is a step closer to acquiring a conservation easement over 1,000 acres of Hokukano Ranch in South Kona. On December 12, the Land Board approved the acquisition, which will cost $3,225,000 or the fair market value as determined by an independent appraiser, whichever is less.
The U.S. Forest Services' Forest Legacy program will provide the funds. Although the lands are zoned for agriculture, they include a robust koa and `ohi`a forest. The easement will protect the property from non-forest uses, DOFAW administrator Lisa Hadway told the board.
"There is some eco-tourism and really nice stands of native forest," she said.
DOFAW's Sheri Mann added that the easement will allow the ranch to continue some "minimal" harvesting of dead and downed trees in accordance with an approved management plan. The plan will also require forest restoration, including efforts to restore threatened and endangered species.
Greg Hendrickson, a consultant for the ranch, explained that the "minimal harvest" amounts to about 175,000 board feet a year, 25,000 board feet of which can be koa. He said the Ka`awaloa tract, which the easement covers, contains several million board feet of timber. At most, the plan would allow the ranch to take no more than 3 percent a year of the total forest inventory, he said.
Land Board member Ulalia Woodside asked whether the DLNR was comfortable with the potential harvest of 150,000 board feet a year of `ohi`a.
Hadway said that the management plan had received approval from DOFAW's Forest Stewardship Advisory Committee.
Hawai`i island Land Board member Stanley Roehrig wasn't comforted.
"The more I hear about it, the more I don't like it. Maybe I need more explanation," he said. Roehrig asked who would be allowed access to the easement area.
"How's about the different organizations that plant koa trees? … How's about community groups? Are they going to get koa logs? You wanna buy a new koa canoe, it's $160,000 or more. [Are] the canoe clubs gonna have access to go in this place to harvest koa or not?" he asked.
Hendrickson replied that a conservation easement is all about restricting uses of the property.
Hadway added that the Forest Legacy program is aimed at giving landowners who own forested property opportunities to keep that land in a working forest.
"Activities such as eco-tourism and well-managed sustainable forestry are a part of that program. This is not like putting land into forest reserve," she said.
The easement prevents the land from being subdivided, which is important considering there is no Conservation District land in South Kona, she said.
"This [allows] the landowner to keep it whole," she said.
Roehrig said he was still not satisfied and asked Hendrickson what the ranch planned to do with the koa it harvests.
Hendrickson explained that the ranch has a mill on the property, as well as a solar kiln to dry wood that can then be made into finished products.
Canoes? Roehrig asked.
"One canoe," which went to a school, Hendrickson said, adding later that the ranch also planned to sell logs on the open market.
Roehrig then asked why the easement doesn't have conditions that some eleemosynary groups are allowed take logs from the property.
"It's very scarce," he said. "Canoes get bus' up. We're always looking for them … The Moku o Keawe Hawaiian Racing Association. Give them [the logs at] nominal cost."
When Mann started to say that the koa on the ranch are not the kind of trees needed to make a canoe, that they were too small, Roehrig said that he knows someone who makes canoes with any kind of koa.
Rather than hold the easement hostage to a condition that would require the ranch to provide cheap logs for canoe making, then-Land Board chair William Aila asked Hadway to explain to Roehrig what the DLNR is already doing to make logs available for that purpose.
Hadway said that her division is looking to work with canoe clubs to provide them with dead and downed koa trees frees from state-owned forest reserve land. DOFAW planned to form a working group to consider prioritizing getting logs to the different clubs statewide, she said.
She added that DOFAW has been talking with master canoe builders and working with neighboring landowners that have equipment to help remove the trees.
With regard to the ranch, Hendrickson added, "We've never refused a legitimate request from the head of a legitimate organization for access to the process."
"You're a great guy. Tomorrow there's another great guy who doesn't like that. … We have to base it not on good will, but some kind of state policy. … Maybe we need to have conditions on it," Roehrig said.
Shifting the discussion away from koa and canoes, Woodside focused again on the harvest of `ohi`a. She noted that `ohi`a is the foundation of the watershed in Kona and if easement's purpose is about protecting the watershed, "we'd like to understand how that primary resource is being restored."
Hendrickson tried to assure her that the management plan is focused on maintaining the high-quality `ohi`a forest that dominates the area.
"We have well over 3 million board feet of `ohi`a in the forest. Our intention is for that number to grow rather than be decreased," he said.
With all the talk of harvesting, Land Board member Chris Yuen asked Hadway to explain the Forest Legacy program a bit more.
"The term 'conservation easement' threw me a bit when I heard the level of timber harvest. It doesn't sound like a forest preservation program. … Is it a program that allows for an economic level of forestry?" he asked.
Hadway replied that the easement doesn't create a forest preserve, but protects working forests while providing the landowner some for economic opportunities.
Mann added that what the landowners are selling are their rights to develop the land. "They cannot do that anymore. They cannot cut all the trees down," she said.
Hendrickson also noted later that the ranch is also required to erect fences and control feral ungulates.
In the end, the Land Board approved the easement, although Roehrig said he had some reservations. Before the vote, he urged DOFAW to draft a proposal in the next fiscal year for a program whereby canoe clubs that race with koa canoes will have an opportunity to access to koa logs at a nominal price "so that the Hawaiian canoe racing culture … can continue."
***
Land Board Rejects Request
For Ha`ena Rules Contested Case
What could exemplify area-based natural resource management — similar to what's envisioned by the state's nascent Aha Moku system — more than the Ha`ena Community-Based Subsistence Fishing Area, adopted by the Land Board on October 24?
Despite the fact that the Aha Moku Advisory Committee expressed its support for the subsistence fishing area, it was the Aha Moku member from O`ahu, Makani Christensen, and a fellow commercial fisherman, Michael Sur, who formally opposed the board's decision and requested a contested case hearing.
The subsistence fishing area, the first-ever approved by the state, is aimed at protecting marine resources for subsistence use and prohibits the sale of any marine life taken (except for invasive seaweed), strictly limits the amount of what can be taken, and restricts the use of certain gear, among other things.
At the Land Board's meeting where members approved the rules for the area, hundreds of supporters turned out.
Despite the board's approval, however, the rules could not be signed until Christensen's and Sur's petition was dealt with. In their petition, they argued that the prohibition of activities under the area rules was an unfair deprivation of their continued use, that the proposed plans for the area were arbitrary and capricious, that their fishing in the area actually helps remove invasive species, and that the rules only benefit a select few.
On December 12, the DLNR's Division of Aquatic Resources recommended denial of their petition because rule-making, being a legislative function, is not subject to contested case hearings.
Christensen testified that the DLNR had failed to adequately reach out to fishermen throughout the island.
"All we ask is to try to put it back in the community," meaning the entire island, "[so] the entire community could be talked to," he said. "Basically, we're serving something to the governor that's really not vetted."
Sur added that he was interested in ridding Ha`ena of fish invasive fish species, noting that invasive seaweed is allowed to be harvested from the area and sold.
"The way they wrote the rules, the gear restrictions … we cannot get the invasive species out of that area," he said. He asked that the Land Board rewrite the rules to allow commercial fishermen to fish invasive species.
"All we're trying to do is fix the area and make it a better place," he said.
Then-Land Board chair William Aila explained that he had directed DAR to find a way to allow the issuance of a special use permit for the control of invasive species within the subsistence fishing area.
"The challenge is going to be how to allow for the special use permit … and have the community feel comfortable that only invasive species are being taken," he said.
Sur complained that obtaining a special use permit is as difficult as passing an act of Congress.
"I sign them all the time," Aila replied. And in any case, "today is about the contested case," he said.
A Kalalau fisherman who helped organize the public outreach on the establishment of the fishing area for the past several years said he had, in fact, tried to reach out to fishermen on Kaua`i's west side. He apologized for not reaching out to them as much, but he said studies showed that the majority of those who fished in Ha`ena were local.
He agreed with Sur that invasive species are a problem, but he took issue with Sur's and Christensen's complaints about the effects of the rules on their livelihoods.
"What we're talking about is sustainability, people who fish there to eat, to supplement their diet. … I just want to make sure you ask yourself the question, is it a livelihood issue or a [sustainability] issue," he said.
Despite the purpose of the fishing area, Hawai`i island Land Board member Stanley Roehrig encouraged the commercial and subsistence fishers to work together.
Ha`ena's Kelii Alapai, who also supported the establishment of the fishing area, said that he can work with others, but insisted that outreach was sufficient and that the goals of the area are clear.
"This is about subsistence, sustainability that was taught to us. … What's so hard about that?" he said.
Kaua`i Land Board member Tommy Oi asked about how a special use permit to take invasive fish from the area would work.
DAR's Ed Sakoda said that a special use permit could allow staff from his division or an agent of DAR to take invasive species. However, a permit could not be issued to a fisherman who planned to take the fish for sale. A rule change would be required to allow for such a permit, he said.
Should the rules change to permit the commercial take of invasive species from the area, Oi asked, could a commercial fisherman then bid on that permit?
Sakoda said it he wasn't sure if the division would seek bids for such a thing.
To which Oi said he was just trying to make everybody comfortable with the Land Board's decision.
"Kaua`i is not a big island," Oi said.
Aila then reiterated that the matter before the board was only whether or not the contested case petition should be granted. Discussion about permits and rule changes could occur later, he said.
"I agree, except for one thing," Roehrig said. "In the common law system, we had the rule of law. It had sharp edges. … Part of our role here is not to just say, 'This is the law.' Part of our role is to smooth off the edges a bit [so] there is greater public acceptance of what we do here."
After Sur insisted that he would only be satisfied with a rule change allowing commercial take of invasives, an exasperated Aila pointed out that if resource protection was the goal, "you could go in there right now with a special use permit and take all the invasive species —you just can't sell it. … Could we please go back to the contested case?"
In the end, the board approved DAR's decision to deny the petition.
***
Board Approves Guidance
For Community Subsistence
Fishing Areas
Given that it's been 20 years since the Hawai`i Legislature authorized the DLNR to establish community-based subsistence fishing areas (CBSFA), and that it has taken about that long to get the first one done, the DLNR's Division of Aquatic Resources has prepared guidelines and a road map of sorts to help other communities wanting to establish their own areas. On December 12, the Land Board approved DAR's guidance documents.
Before the vote, Land Board member Chris Yuen expressed some concern that the proliferation of CBSFAs may result in so many different regulatory areas, "it's gonna get very confusing for the public and enforcement."
Although such differentiation was inherent in community-based management, Yuen encouraged the use of common definitions of things like "take" or "invasive," and asked staff to work with communities as much as possible to create consistency.
"Fully understood," said DAR's Erin Zanre, who heads the division's CBSFA program.
Land Board member Stanley Roehrig said he worried that the establishment of these areas would also fuel rivalry among users.
"There seems to be some belief in certain quarters, when you have these areas to fish, some people can go and some people can't go. … We're gonna have warfare and we don't need that," he said. "We're trying to do something to improve the sustainability of our aquatic resources for generations. If we're creating some kind of monster where you have neighbors fighting other people not from their street or subdivision …"
John Crawford, executive director of the non-profit Kipahulu `Ohana on Maui, spoke in support of the DAR's guidance documents on behalf of a group called the Maui Nui Makai Network, which represents six communities across Maui, Lana`i, and Moloka`i. He listed Mo`omomi on Moloka`i and Lahaina, Wailuku, and Kipahulu on Maui as some of the communities either interested in or already involved in the process of CBSFA designation.
"We're looking at the process Ha`ena went through. It was a very convoluted and delayed process that would be very intimidating for any other community to go through. Having a standard process … is very helpful for the communities to know and to make it a reasonable time period," he said.
O`ahu's Wally Ito, who with limu expert Henry Chang Wo, tries to get people involved in the protection of limu, also supported the CBSFA guidelines.
"We need to realize our resources are diminishing. It's the job of DLNR to help us with our resources. It's a huge, huge task. If we can cut up the task into small pieces and have the community manage resources, that's a good thing," he said.
Zanre said that when it comes to enforcing CBSFA rules, citizen programs such as Makai Watch are helpful. But first, then-Land Board chair William Aila said, you have to have rules.
Unlike Roehrig, Aila seemed to see the CBSFA program as a way to help manage disputes over a particular area's marine resources. Two days before the board's meeting, four Moloka`i men were charged with terroristic threatening, harassment, robbery, and the unauthorized boarding of a board in relation to a May incident in which they confronted divers from O`ahu who had come to Moloka`i to fish. For the last four years, Aila told the board, he had heard complaints from Moloka`i residents about outsiders coming over to take the island's marine resources.
"I have told them, we cannot discriminate. … We've made the offer to work with them on [CBSFA]. Currently, there are no rules on Moloka`i other than statewide rules.
"The way to address the situation is for the community to come forward or ask for a fishery management area around the island [but] first, there has to be discussion on Moloka`i and a willingness," he said.
— Teresa Dawson