Posted 08/30/2013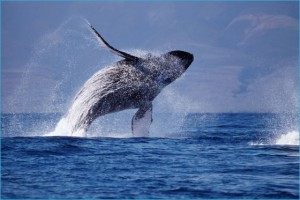 The National Marine Fisheries Service has determined that removing North Pacific humpback whales from the federal endangered species list may be warranted.
That's according to an August 29 Federal Register notice in which the NMFS announced the initiation of a status review of the North Pacific population to determine whether it should be declared distinct and delisted. The agency has invited the public to submit any pertinent scientific and commercial information by October 28.
An April 17 petition from the newly formed Hawai`i Fishermen's Alliance for Conservation and Tradition, Inc. prompted the NMFS review. The group argued that the North Pacific whales look different from other humpbacks and have markedly different genes and ranges.
The NMFS' 90-day finding states that the petition presented "substantial information indicating that the North Pacific population of the humpback whale may qualify as a DPS [distinct population segment]," and that it may not be at risk from habitat destruction, overutilization, inadequate regulatory mechanisms, and other natural or man-made factors.
Much of the information presented by HFACT came from a 2011 National Oceanic and Atmospheric Administration technical memo summarizing the status of humpback whales globally.
The humpback whale was listed as endangered in 1970.
To submit comments electronically, visit http://www.regulations.gov. They can also be mailed to Office of Protected Resources, NMFS, 1315 East-West Highway, Silver Spring, MD 20910.