Posted 12/08/2011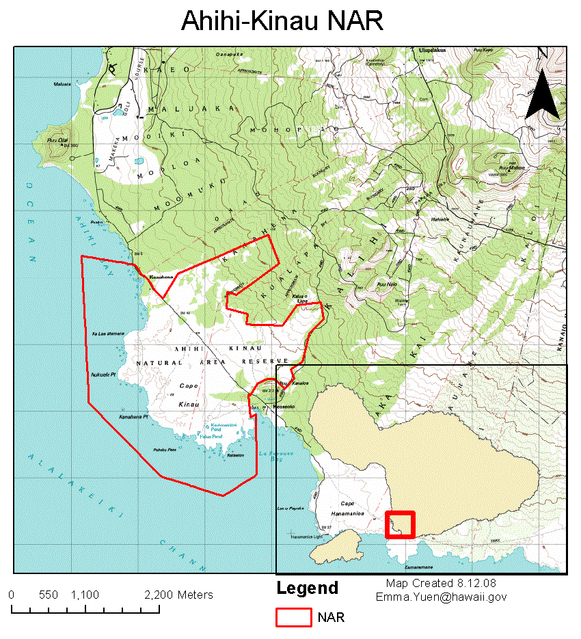 The U.S. Army Corps of Engineers' ordnance survey of the `Ahihi-Kina`u Natural Area Reserve quietly ended November 18.
The south Maui NAR, used as a Navy bombing target in the 1940s, is one of several formerly used defense sites in Hawai`i slated for cleanup and covered by Gov. Neil Abercrombie's emergency proclamation exempting the Corps from more than two dozen state environmental laws.
In six weeks of marine and terrestrial surveys, the Corps and its contractors found nothing requiring detonation at `Ahihi-Kina`u, although they did collect roughly 150 pounds of munitions debris, according to Maui Natural Area Reserves System manager William Evanson. They also found three post-contact burials that were documented and reinterred by the State Historic Preservation Division.
Although the ethnicity of the burials was not determined, in deference to native Hawaiian customs, "the SHPD does not release specifics about burials to the news media. In particular, location data is not released without the burial council's input. The Maui burial council has deemed all burial information sensitive," DLNR information specialist Deborah Ward wrote in an email to Environment Hawai`i.
With regard to the ordnance survey, Evanson said that surveyors revised their work plan to minimize impacts on the reserve, which includes endangered species, anchialine ponds, cultural sites, and a robust and unique coral reef ecosystem. For example, they walked transects only once, rather than twice, and used no flagging or markers on the a`a lava that comprises most of the land within the reserve.
"They did this out of recognition that the terrain is really hazardous and wanted as few people taking chances as possible. … If you look at where they walked, you would not be able to tell they were there," Evanson stated.
In the weeks and months preceding the survey, state and federal officials, as well as members of the public, expressed concern that the Corps's policy of detonating in place any fused or unstable munitions could harm some of the reserve's resources. In the end, however, "[i]mpacts were very limited/negligible; no one got hurt and they finished on time, Evanson stated, adding, "Quite an accomplishment if you ask me! [The survey] was generally well-structured, organized and implemented."
The Corps and the Department of Land and Natural Resources will collaborate on recommendations for management of the reserve, taking into account the area surveyed, what was found, stakeholder input, and future use plans, he said. (The Corps had avoided surveying any anchialine pools, as well as some vegetated areas.)
"A fence was talked about as being a likely outcome prior to actual surveys but, since there was no live UXO found, I am not sure what they final decision will be. We will have to wait and see," Evanson said.
— Teresa Dawson