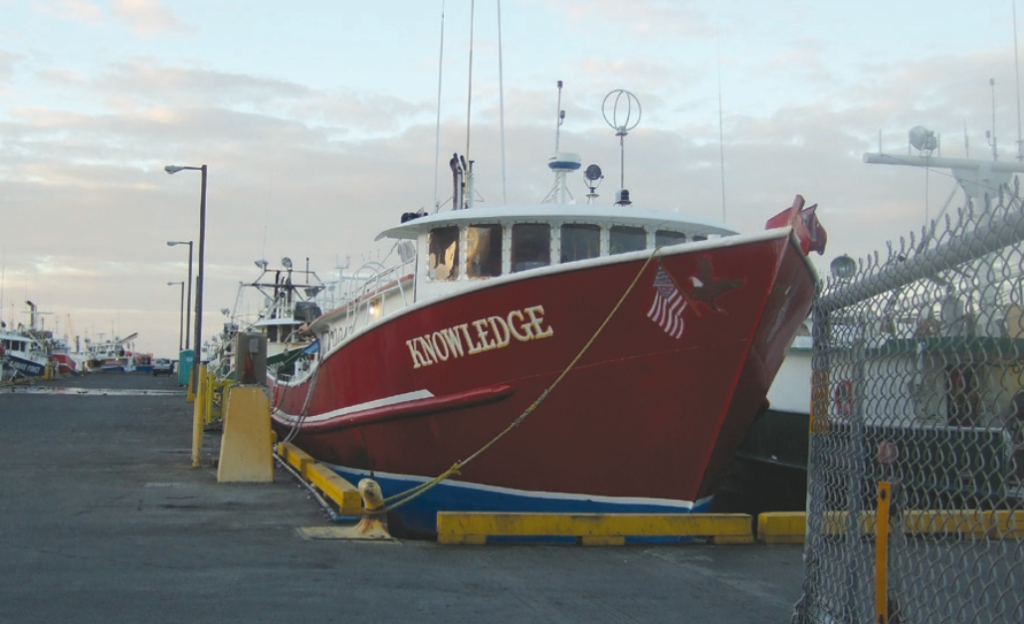 Late on the night of October 10, 2017, the Pacific Paradise, a Honolulu-ported longline fishing vessel, hit a reef just 1,000 feet off Waikiki beach in the middle of the night. Twenty people were aboard the 79-foot-long craft, which would normally have a crew of no more than five or six.
Just what it was doing in shallow water off Waikiki, miles east of the piers where longliners tie up, hasn't been explained. Jim Cook of Pacific Ocean Producers and owner, with partner Sean Martin, of several longline vessels, suggested that the vessel had arrived in Honolulu from American Samoa too late in the day to check in with Customs officials. "I believe in this case, the vessel shut down in Waikiki and drifted onto the reef while waiting to enter Honolulu Harbor," he said.
No one on board alerted authorities to the grounding. Honolulu Fire Department and U.S. Coast Guard personnel responded to emergency calls from civilians; all aboard were rescued.
The vessel itself was 45 years old and looked every minute of it. Within days of its grounding, as salvage crews were attempting to prepare it for removal, fire broke out. In the end, it took more than $1 million and nearly two months before the vessel, growing more derelict by the day as it was buffeted by surf, was freed from the reef, towed miles out to sea, and sunk.
But what of the crew?
As it turns out, nineteen of the individuals aboard were coming to Hawai'i to crew on other longline fishing vessels, joining several hundred other foreigners who work on the 140 or so vessels that make up the Hawai'i longline fleet. They had endured 12 or more days on the Pacific Paradise as it sailed from Pago Pago. A pleasure cruise it was not, with the boat carrying three times the number of men it was intended to accommodate.
After their initial rescue, they were in the custody of immigration officials. In the days following, the foreign fishermen were given over to the vessel owners who were their intended employers and began working under the labor contracts they presumably had signed before arriving here. As for the crew that was intended to work on the Pacific Paradise itself, they found employment on other vessels owned by the company, TWOL, LLC, that owned the doomed vessel.
The conditions under which the foreign fishermen work — being paid pennies an hour in harsh conditions, unable to go ashore even when the boats are in port, for terms that can last years — were documented in a report published in September 2016 by the Associated Press. Thanks to a loophole in federal immigration law, Hawai'i longliners are able to use foreign crew members even if they are not given visas to enter or work in the United States. Their special situation means they cannot arrive on commercial flights into Hawai'i and so they end up being transported aboard fishing vessels such as the Pacific Paradise.
Human Trafficking?
A federal lawsuit brought by two fisher men who jumped ship in San Francisco sheds light on the ways in which those fishermen are recruited and the conditions under which they — and presumably many others — are forced to work. The lawsuit was the first to be brought under the U.S. Trafficking Victim's Protection Act.
A settlement in the case against vessel owner Thoai Van Nguyen, doing business as Sea Queen II, was filed on January 3, bringing an end to two years of litigation. But the struggles of Abdul Fatah and Sorihin, the Indonesian fishermen who brought the suit, go back to 2009.
The two, both of whom had worked previously on commercial fishing vessels, were recruited by an Indonesian firm that promised them good jobs and wages far more than what they might earn in their home country. According to the lawsuit, the recruiting firm demanded the fishermen pay fees to a Hawai'i middleman, Hernan Santiago, doing business as World Agent Enterprises, who had been asked by Nguyen to recruit crew for the Sea Queen II, one of more than 140 longliners that hold Hawai'i limited entry permits, allowing them to fish for tuna and swordfish. The fees were between 300 and 400 U.S. dollars, an extraordinary expense for both men, but which they justified in light of promised wages. In Sorihin's case, he was told he would receive pay of $350 a month for the first year, $400 in the second year, plus bonuses of $10 for each ton of fish caught per trip. Fatah received similar assurances.
After signing contracts, the two men were presented with a second contract, which provided penalties in the event they did not work the full two years. As stated in the complaint, "Unexpectedly, PT Shilla [the Indonesian recruiter] demanded that Plaintiffs sign a second, separate contract, which imposed a penalty of IDR 10 million (approximately USD 1,064) if Plaintiffs failed to complete their two-year terms. Plaintiffs had no prior notice of this penalty, and were shocked and concerned because of its excessive amount. Plaintiff Sorihin complained to PT Shilla, as he had not previously signed a penalty contract when he worked on Japanese vessels. PT Shilla simply responded that their policy was that everyone sign the agreement. Because they had already paid substantial, non-refundable recruitment fees, prepared for their departures, and completed the recruitment process, Plaintiffs were compelled to sign the contracts."
From Indonesia, Sorihin, Fatah and four other Indonesian fishers took a series of flights — from Jakarta to Singapore to Sydney to Fiji to Samoa — ultimately ending in Pago Pago. There, they, along with two more Indonesian men who joined up with them in Sydney, were transported to a dock and placed aboard a "vessel that was broken and stationary," the complaint states.
They remained there four days, during which time four Filipinos joined them. "Food was only delivered one time per day, and Plaintiffs and the others had to beg local fishermen for extra fish to eat," according to the complaint.
Finally the fishing vessel Knowledge, corporately owned by Quan Do, Nghiep Pham, and Jacqueline Pham, all of Honolulu, and captained by Do, arrived and the 12 men boarded. (The corporation F/V Knowledge was involuntarily dissolved by the state Department of Commerce and Consumer Affairs in December of last year, three years after its last annual report was filed. The vessel is not among those holding current longline permits in Hawai'i.)
"The Knowledge was extremely overcrowded," the complaint states. "Plaintiffs were forced to sleep outside on the deck, with only a plastic sheet to protect them from the elements. The sheet did not protect them from the bitter cold, strong ocean winds, and water, and Plaintiffs both became sick from this exposure."
After several days at sea, Do, the captain, informed Sorihin and Fatah that they would be transferred to the Sea Queen II while the others would be transferred to the Sea Dragon and Kimmy, two other vessels home-ported in Honolulu.
"Plaintiffs were warned by the Filipino fishermen that the Sea Queen II was known to be an undesirable vessel to work on and that the captain was strict, stingy, and mean." Eventually the Sea Queen II pulled alongside the Knowledge. "In rough waters, Do directed Plaintiffs to board a small dinghy and to pull themselves over to the Sea Queen II by a rope connecting the two vessels."
Conditions as described by Sorihin and Fatah were harsh. Although the vessel had an indoor toilet, they and other crew were not allowed to use it and were forced instead to urinate and defecate in a bucket on the deck. When Sorihin asked to be allowed to leave, he was told he had to reimburse Nguyen the $6,000 that Nguyen said he had paid to recruit Sorihin.
Both men were injured in the course of their work aboard the Sea Queen II, but, they alleged, Nguyen did not allow them to seek appropriate medical care.
Once the vessel left Honolulu and began to pursue swordfish in colder waters, their situation deteriorated, with Nguyen failing to provide them with gear appropriate to the weather. During this time, they were also subjected to beatings from Nguyen's three adult nephews, who had come aboard when the vessel was docked in Honolulu.
The conditions aboard the Sea Queen II "made Plaintiffs increasingly desperate," the complaint states. "After severely injuring his thumb, Plaintiff Sorihin told Defendant Nguyen that he wanted to leave the ship because of the terrible working conditions." Nguyen refused.
"Plaintiffs could not buy their freedom; they could not afford to pay Nguyen USD 6,000 each, and they could not afford the total sum of all the costs and penalties they would incur if they left early," the court was told. Nguyen had told them they would be arrested if they attempted to flee the vessel, but Sorihin and Fatah "believed that they would die on board the Sea Queen II" if they did not escape.
In April 2010, while the Sea Queen II was docked in San Francisco, Nguyen and his son, Tony, left the Sea Queen II to make a visit to his San Jose home. Nguyen's nephews remained on board where, the complaint states, they "drank heavily." After they fell asleep, Sorihin retrieved his passport and that of Fatah from Tony's room. "With their passports and Seaman's books, Plaintiffs then escaped from the Sea Queen II."
In settling the case, Nguyen agreed to abide by code of conduct and to inform future fishermen of their rights under U.S. law. The settlement agreement further banned him from any further dealings with PT Shilla, the Indonesian recruiter, and Hernan Santiago, the Honolulu-based middleman.
Promises, Promises
Following publication of the Associated Press report on Hawai'i longliners' use of foreign fishermen, the Hawai'i Longline Association commissioned a rapid assessment of the status of foreign workers on longline vessels, according to testimony submitted to the Legislature last year by John Kaneko of the Hawai'i Seafood Council. The researcher who conducted that assessment, Amy Gough, "found no evidence of human trafficking or forced labor," Kaneko wrote. (Efforts to obtain a copy of this report were unavailing by press time.)
Kaneko was testifying on House Bill 438, which would have required foreign crew members to give the Department of Land and Natural Resources a copy of their employment contracts before obtaining commercial marine fishing licenses. Also submitting testimony were Jim Cook and Sean Martin, on behalf of the Hawai'i Longline Association. They stated that in response to the AP report— described by them as neither accurate nor fair — the HLA had developed a "Universal Crew Contract" and a "code of conduct" for vessel owners.
Environment Hawai'i was able to view the "universal crew contract." It states that the fishing "is aboard Hawai'i pelagic longline vessels making up to 15 trips per year. Trip duration is from 10 to 40 days" and that payment will be made within four days of landing. The crew member is not responsible for any recruiting fees, which are instead to be paid by the vessel owner. Finally, it provides that the vessel owner will hold crew members' passports, with "copies issued to the crew members. Crewmembers may access their passports at anytime."
That contract is thin gruel when compared to the more robust requirements that were agreed to by Nguyen, owner of the Sea Queen II, in settlement of the human trafficking case brought by Sorihin and Fatah. Those include his agreement to assure that the crew member will not be charged for costs associated with travel to the vessel; that he will have access to passports and other travel documents ("the Captain will safely store these documents for you if you want, otherwise, you are fully responsible for the safekeeping of such documents when in your possession"); that he will be provided with "appropriate protective clothing, in good condition, at no cost"; that he may return home without penalty if he decides to terminate his contract early ("in such a case, the captain will provide information about inexpensive return home options and will assist in making arrangements"); and that the crew member "will ordinarily be provided with minimum rest hours of ten hours … in any 24-hour period, and 77 hours in any seven-day period."
When asked about the code of conduct being developed by the HLA, Cook said that a couple of drafts of this were being discussed. "It's a constantly evolving thing, particularly involving manning agencies," he said. He added that he was familiar with the commitments that Nguyen had made in settling the lawsuit brought by Sorihin and Fatah, describing it as a "fairly solid model."
"I don't think we'll have the exact wording" as in the Nguyen agreement, he said, "but all will be covered." According to Cook, a code of conduct for vessel owners would be ready soon.
— Patricia Tummons